Google, at its annual I/O conference 2017 announced that 500 million people use Google Photos every month, which is a remarkable feat, considering it was launched just 2 years back. Bearing in mind, the rate at which Google Photos users are increasing, it is necessary for Google to introduce new and captivating features regularly in its Photos app. And, that is exactly what they are doing.
At the I/O conference, Google announced three new ways of improving how you use and share your photos using Google Photos – Shared Library, Suggested sharing and Google photo books.
Also read: Google Lens vs Samsung Bixby Vision
As the name suggests, with the Shared library you allow Google photos to share your photos but with a specific person. When you capture a new photo, it will automatically show up in the Google Photos library of the person that you have selected.
What this means is, you no longer need to pester someone very close to you to regularly share photos. Google Photos will automatically bring new photos to your device. For instance, parents can use this feature to automatically share photos of their children with each other that they capture individually on their devices.
Check out: How to create video slideshow of photos on Android
Similarly, you can share photos automatically with your best friend or a family member. However, currently, Google Photos supports library sharing with only one person.
Furthermore, the recipient gets two options to choose from; they can either save the photos manually or enable the setting to save the shared photos automatically to their account.
And if you are worried about privacy and wondering why would a person share their entire phone library with someone. Stop right there. You don't have to share your entire library, although you can if you want to. But, Google Photos will come with a feature that lets you only share photos of certain people, or after a certain data. Basically, you will have the power to control which images you want to share.
Also read: How to trim or shorten your videos on Android
In a nutshell, shared library of Google Photos automates the sharing of photos with a trusted contact in real time.
The Shared library is present in the Google Photos navigation drawer. All you need to do is open the navigation drawer, tap "Share your library" and specify the photos or the criteria for the photos that you want to share.
Similarly, as a recipient, you have to open the navigation drawer and tap "Photos from". You will see all the shared photos in real time. You can also enable save automatically setting here.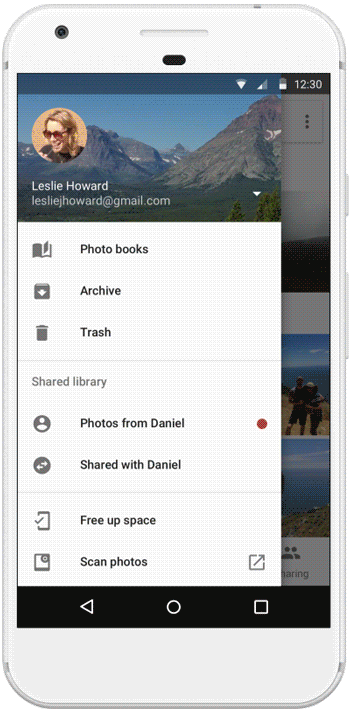 Also read: Best pre-installed Android widgets that you should know about
Update [June 28, 2017]: Shared Library is rolling out worldwide across all the platforms.
Shared library will soon roll out as an update to Google Photos in the coming weeks.
We will inform you when it's available until then check our posts on tops apps:
---
What are your views on the Shared library? Let us know in the comments below.